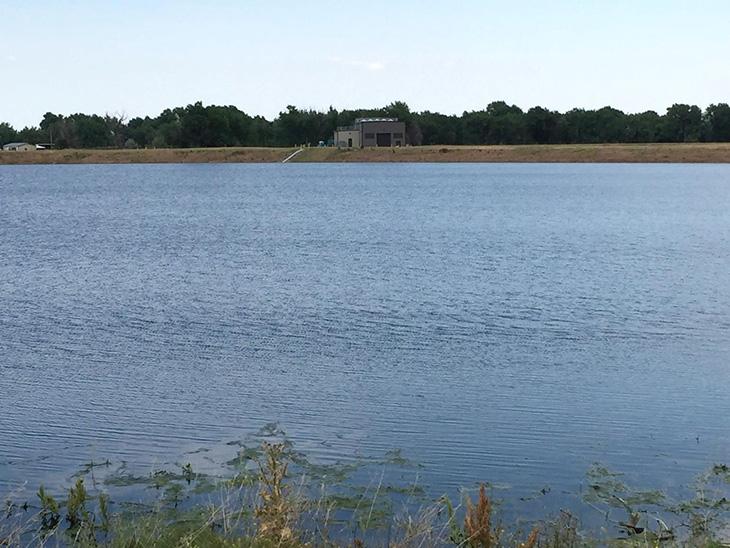 Project Description:
L.G. Everist, Inc. has contracted with local municipalities to create lined water storage reservoirs upon completion of mining. Reservoirs at L.G. Everist's Fort Lupton Sand and Gravel site will supply the municipality with much-needed replacement water to ensure their community's successful and sustainable growth for years to come. Photos of this location shows the pump station building, constructed by the municipality to efficiently pump water from the South Platte River into this reservoir, and back into the river when needed for replacement volumes. The second photo shows the surrounding access roads – which allow easy inspection of the reservoir by authorized personnel.
The Phase III Reservoir at L.G. Everist, Inc.'s Rinn Valley Resource has been completed since 2010, and functions as a water replacement source for regional water users. The natural sand and gravel reserves mined from the site supplied building and construction projects in the communities along the northern Front Range. Photos show an inlet structure at the floor of the reservoir – needed for reservoir filling and release, the healthy thick native grass species, planted around the reservoir – the vegetation helps prevent erosion by wind and rain, and also beautifies the property, and the filled reservoir with the Rocky Mountain front range in the distance.
L.G. Everist, Inc. also purchased the Star Water Resource property in 2013. Most of the site had been mined, and had sat dormant for years. L.G. Everist completed the mining and then slurry-wall lined the pond to create a certified water storage reservoir. The photos show the construction of the slurry wall, some slopes and access roads after final grading is complete, and the filled reservoir after the borders have been planted with native grasses. The water in this reservoir is stored until needed for replacement of water rights, and is then pumped into the Cache La Poudre River.